---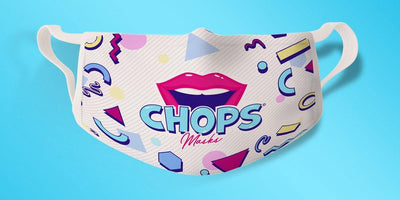 Why not Show off your Chops with our Chops Brand Mask. Be the the talk of the street with this ultra cool style.
Product Details:
Measurements: 6.75 (W) x 4.75 (H) inches.
Material: 100% soft cotton inner layer and a 100% polyester outer layer.
Carbon Filter Inserts: Each mask comes with 2 carbon filters. Do not to wash or reuse the carbon filter, replace it after 2-3 days for all day use or 4-5 days for occasional use.
This mask is not a medical mask and should not be used as PPE. This mask should not be used in the following environments:
-       Any surgical setting or where there may be significant exposure to any bodily liquids or any other hazardous fluids may be prevalent.
-      Do not use in a clinical environment where infection risks are high through inhalation exposure.       
-       Near any high intensity heat source, flame or flammable gas.